Create the Trophy competition winner attends QEPrize award ceremony

Today, during a ceremony at Buckingham Palace, four US engineers were presented with the 2019 Queen Elizabeth Prize for Engineering (QEPrize) for their work creating the first truly global, satellite-based positioning system, GPS. The elegant trophy design was created by the 2019 Create the Trophy competition winner, 17-year-old Jack Jiang from Hong Kong, whose trophy was selected from an unprecedented number of entries around the world. Jack's intricate design impressed the judges with its complexity and balance, amalgamating traditional trophy elements with elegantly designed wind turbines.
The 2019 competition, opened to budding designers aged between 14 and 24, received record engagement from over 50 countries and a breadth of innovative designs. Jack and nine other finalists were selected for review by an expert panel of judges, designers, and engineers led by Ian Blatchford, Director and Chief Executive of the Science Museum Group. Joining him on the panel were Roma Agrawal, Associate Director at Aecom; Zoe Laughlin, co-founder and Director of the Institute of Making; and Rebeca Ramos, then project leader at Heatherwick Studio.
The QEPrize is the world's most prestigious engineering accolade, a £1 million prize that celebrates an engineer or group of engineers responsible for a ground-breaking innovation of significant positive impact on humanity. In addition to receiving a state-of-the-art laptop, Jack was invited to attend the presentation ceremony at the Palace to see his trophy presented to Dr Bradford Parkinson, Hugo Fruehauf, Richard Schwartz, and Anna Marie Spilker, who accepted the award on behalf of her late husband, Professor James Spilker, Jr.
"It is an incredible honour to be part of this ceremony.", says Jack. "It is the opportunity of a lifetime to go to Buckingham Palace and see my trophy being presented to the engineers responsible for making the GPS. It is extremely rewarding and inspirational."
The Create the Trophy competition gives young people the opportunity to create a piece of engineering history using the latest in 3D technology, QEPrize3D, a free app available on both iOS and Android. The app provides a catalogue of shapes and materials to choose from, and an in-app photo studio allows users to show off their creations.
The shortlisted designs can all be viewed at: qeprize.org/trophy-2019.

Sir Ian Blatchford, director of the Science Museum Group and chairman of the judging panel, said of the winning trophy: "What struck the judges most about Jack's design is how well it manages to demonstrate its two main inspirations. It is both an elegant design that acknowledges the traditional trophy form, but its resemblance to wind turbines shows Jack's strong passion for engineering and its role in solving future global problems.
"We also chose Jack's design for its sheer exuberance – it required a great amount of concentration and imagination to make. That quality greatly appealed to the judges."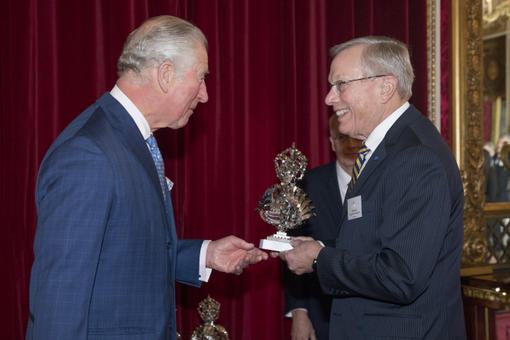 HRH The Prince of Wales presents the QEPrize trophy to Dr Bradford Parkinson