Applications open for enhanced Autocar Courland Award 2016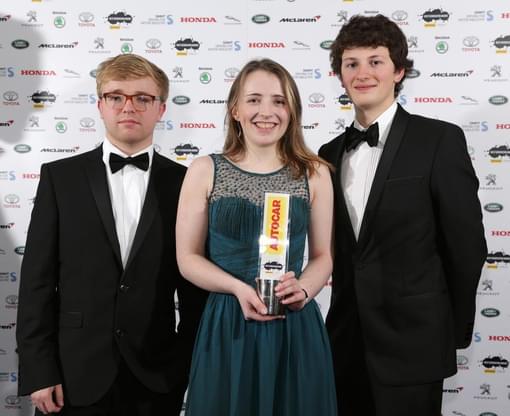 Autocar Courland Winners 2016
Autocar and Courland Automotive have opened an enhanced version of the unique Next Generation Award programme to all UK resident young adults aged 17-25 for 2016.
Now a five-category competition, the Award is designed to be a career springboard for young people aspiring to work in the ultra-competitive automotive industry.
The winner of the 2016 competition will receive a £9000 cash prize, industry acclaim and six months of hands-on work experience, shared between award sponsors Jaguar Land Rover, McLaren Automotive, Peugeot, Toyota, Honda and Nissan, which joins as a brand new award patron this year.
The competition invites entrants to submit an original idea or innovation that would improve the UK automotive business in one of five categories – mobility, connectivity, sustainability, customer experience or marketing and communication.Applications for the 2016 Autocar Courland Next Generation Award are now open at Autocar Next Generation Award.
Started in 2009, the Autocar Courland Next Generation Award is now a proven path into the UK auto industry.
Roberto Antonio Pace, who won the Award in 2012, is now working as an engineer at McLaren Automotive, the same company at which 2015's winner Morven Fraser (pictured above) starts the first of her six months of work experience this June.
To broaden accessibility to an even greater number of entrants, the brief for the 2016 Award has even more detail, with the inclusion of five categories into which any submission should fit. Prospective innovations can now apply to any element of automotive business, from concept right through to the aftermarket sector.
Autocar Editor-in-Chief and Award head judge, Steve Cropley, said: "Year after year, the judges and I are consistently amazed by both the standard and ingenuity of the entries we receive.
"Now in its eighth year, the Award is an established fast-track for talented young adults wishing to kick-start dream careers in the automotive industry. By expanding our categories yet further for 2016, we look forward to seeing a multitude of new cross-category innovative ideas."
Courland Automotive Global Managing Partner, Martin Bohling said: "Whilst we function principally at board level for the global automotive industry, it's clear to us that the automotive industry has an acute need for young and diverse talent. We support this Autocar Courland Award because it offers an unparalleled opportunity for the bright industry leaders of tomorrow to gain first-hand experience of what it's truly like to work with some of the best known automotive brands in the world."
Entries to the 2016 Award will be open until Tuesday, 30 August 2016 at 17:00. Six finalists will be selected to present their innovations to the panel of judges in November, with the winner being announced at the centenary Annual Dinner of the Society of Motor Manufacturers and Traders (SMMT) at London's Grosvenor House Hotel on Tuesday, 29 November 2016.
For more information about the Award, entry brief and application process, please visit Autocar Next Generation Award.