Celebrate with the Queen Elizabeth Prize for Engineering this December!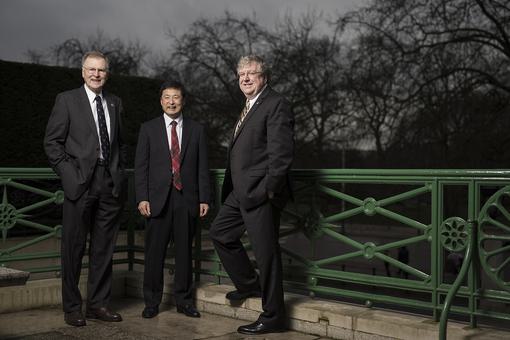 QEPrize winners Michael Tompsett, Nobukazu Teranishi and Eric Fossum
Next week marks the most important day in our calendar, as we head to Buckingham Palace for the presentation of the 2017 Queen Elizabeth Prize for Engineering!
Winning engineers Eric Fossum, Nobukazu Teranishi and Michael Tompsett will each be presented with their unique, 3D printed trophy by HRH the Prince of Wales. Together with George Smith, who is unable to attend the ceremony, this year's winners are honoured for their contribution to creating digital imaging sensors. Found in billions of digital cameras and smartphones across the world, this innovation has transformed medicine, science, communication and entertainment.
The trophy is designed by 16-year-old Samuel Bentley, from Wales, whose design was picked from thousands of entries to this year's international Create the Trophy competition. BAE Systems then brought Sam's design to life, 3D printing it at their facility in Samlesbury.
Don't forget to follow us on Twitter, Facebook and Instagram to see the latest pictures and news from the QEPrize and join in the conversation with #QEPrize2017.
A thank-you to all our QEPrize Ambassadors
As 2017 draws to a close, we also wanted to thank our ambassadors and contributors for sharing their wonderful engineering stories.
QEPrize Global Engineering Ambassadors are an international network of young engineers from both business and academic institutions. Acting as evangelists for engineering, they share the importance of engineering with teachers, parents, schoolchildren, politicians and journalists. The network is a community where these young role models can connect with peers from across the field, and collaborate to inspire future generations of engineers.
Throughout December, we will be sharing more stories of young and early career engineers who are going the extra mile to encourage young people to follow in their footsteps. Hear about their journeys into engineering and find out how you can get involved this month!
For more information about the network, visit www.qeprize.org/ambassadors