Siemens' Inventors of the Year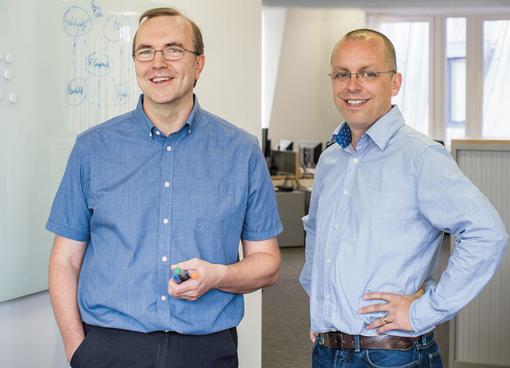 Software developers Howard Mattson and Douglas King of the Digital Factory division in Cambridge
Since 1995, Siemens has been awarding the annual Inventor of the Year accolade to researchers and developers they feel are outstanding in their fields, and whose innovations have made a major contribution to the continuing success of the company.
With roughly 7650 inventions produced through Siemens last year alone, and more than 32,100 people employed by the Research and Development department, Siemens have honoured nine inventors with the Inventor of the Year award. Among them are software developers Howard Mattson and Douglas King, of the Digital Factory division in Cambridge.
Their invention is in the field of computer aided design, and together, they have created a piece of software that has proved revolutionary for digital modelling. When it comes to manufacturing products, it is down to the engineers to not only come up with the ideas, but to design them to be cost effective to produce, and take into consideration customer needs and ease of use.
When designing these products, most engineers will now use computer aided design, or CAD modelling, to sketch their ideas in 3D, and help visualise exactly how they will function when produced. This can limit the number of prototype models needed, and cut both time and cost of production.
When put into practice, Douglas and Howard's software allows for the quick and easy editing of digital models, rapidly making a 2D image into a 3D model with little additional input from the user. This has helped to dramatically simplify the way designers use the Product Lifecycle Management (PLM) software that is vital to cost effectively design and manufacture Siemens products.
The Synchronous Technology software developed by Howard and Douglas means design engineers need only select the elements of a model they wish to change, adjusting the dimensions, materials or other parameters as necessary, and the system will automatically update the rest of the model accordingly. This technology has enabled engineers to change their models up to 100 times faster than before, meaning valuable hours can instead be spent on designing and developing new ideas.
Howard highlighted that one of the many challenges of developing a new product such as this is that when they are new, there is no customer feedback to help guide the process, and as such, the developer often has to play the role of both consumer and developer, assessing the features that work well, and pointing out where the design can be improved.
Speaking to Siemens after being presented their award however, Douglas said:
"An inventor needs to be able to think about things in different ways, and to not be scare of getting things wrong or failing, because usually, through failing, you learn something. Maybe your best ideas come because something went wrong."
Looking towards the future, Howard is keen to see the team continue to grow. Having implemented several successful ideas, the team have built up a body of work which now needs to be maintained and upgraded for the future, and there is a worry that there may be less time to spend on new innovations. With a greater workforce however, Howard hopes to compensate for this, with some members dedicated to ensuring technologies stay current, while others can focus their energies into developing new innovations, and keeping Siemens designs at the forefront of engineering.