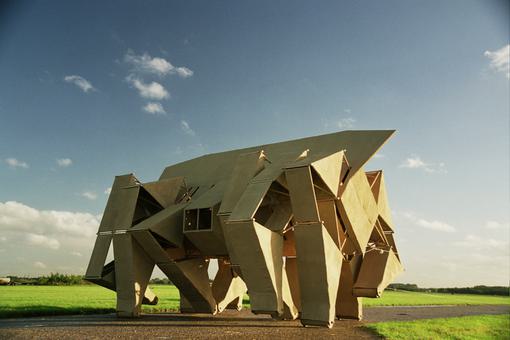 Photograph by Loek van der Klis
Problem solving requires creativity, and being regarded as the world's problem solvers, an unchecked creative streak is often an engineer's best friend.
"Engineers solve problems. They do so through the creation and deployment of new knowledge and technologies, to create cost-effective solutions, often to the most demanding problems the world faces."
Speaking in the QEPrize Create the Future report last year, Professor John Hennessy, President of Stanford University, and judge of the Queen Elizabeth Prize for Engineering, highlighted the importance of creativity and design in engineering solutions. The Create the Future report has recently shown that people across the world are incredibly optimistic about what they feel engineers can achieve in the next twenty years. The top areas where an engineered change is predicted are improving renewable energy, advancing computer technology, and addressing the various infrastructure challenges of the modern city - all big problems, needing a bold design approach.
This month we will be taking a look at some of the more creative solutions to the world's biggest (and some of the world's smallest) design and engineering challenges.
Jaguar Land Rover shows us how their apprentices have put their problem solving skills to the test to help eight year old Keeley Cullen keep horse riding. Diagnosed with cerebral palsy, horse riding helps Keeley to stay active and healthy, but a change in circumstances meant that without Jaguar's engineers, she might have been forced to give up her favourite hobby.Next, we explore how artist Theo Jansen has harnessed the power of the wind to bring his intricate, autonomous Strandbeests to life over the past two decades. The creatures that Jansen creates have skeletons not made of bone, but of lightweight plastic tubes, that can walk on the wind. Jansen's dream is to one day set out herds of his beasts to roam the beaches free of his input, living their own lives out on the sand.
Alongside our regular content, in the run up to Her Majesty the Queen's birthday later in the month, we will be celebrating Her ongoing service and support of the engineering industry, detailing Her illustrious involvement with the field.Finally, we will be looking forward to an exciting announcement at the end of April, and will be featuring a range of exhibitors who will be helping us out along the way.
Don't forget to follow us on twitter @QEPrize and check back on our news page throughout the month to find out more.