QEPrize trophy presentation day 2015
Engineering Ambassadors' reception
The day started with a reception for the QEPrize Engineering Ambassadors at the Royal Academy of Engineering. As one of the key missions of the QEPrize is to inspire the next generation of engineers, it was fantastic to be joined by so many young representatives from each of the QEPrize donor companies. The graduate engineers and engineering students were filled with excitement for the day ahead and enthusiasm for the work of Dr Robert Langer.


From struggles and dreams to a groundbreaking achievement
One of the highlights of the day was Dr Robert Langer's address. Titled 'The Struggles and Dreams of a Young Engineer,' Dr Langer recounted the challenges he faced in his early career. He told the story of how he was refused research funding and continuously discouraged from developing his groundbreaking drug delivery system, before rising above all expectations to develop a treatment that would impact billions of lives worldwide.[embed]


Mansion House lunch
Following his inspiring address, Dr Langer and guests travelled to Mansion House for a lunch hosted by the Lord Mayor and the City of London Corporation. The Lord Mayor paid tribute to Dr Langer's remarkable achievements and highlighted the importance of engineering in the UK, saying, "Creativity, innovation and skills allow our country to be where it is today."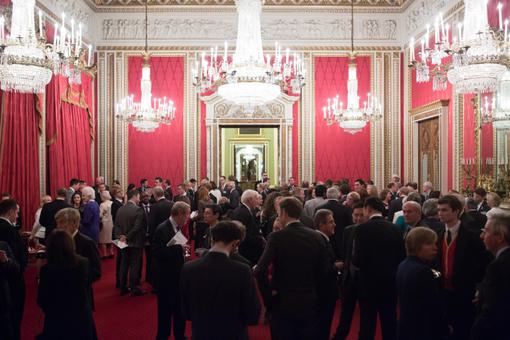 Excitement builds in Buckingham Palace
Diplomatic Ambassadors' Reception
In light of the significance of the occasion, diplomatic ambassadors representing many different countries attended a reception at the Royal Academy of Engineering to celebrate Dr Langer's achievement. Anticipation of the presentation at Buckingham Palace built as more guests arrived to attend the momentous presentation.


Buckingham palace – the trophy presentation
After the reception, guests travelled to Buckingham Palace to see Robert Langer presented with his trophy by Her Majesty The Queen. Guests gathered in the grand setting of the Palace and watched as The Queen presented the spectacular trophy, saying, "I am delighted to honour the achievements of Dr Langer, whose pioneering research has brought enormous benefit to millions of people."
After Dr Langer had received the award, The Queen and several members of the Royal Family joined the guests to celebrate the occasion. It was a remarkably relaxed event, with the Royal Family and members of the Royal Household moving freely around the room and engaging with small groups of young engineers.