Irene Rios: Engineering my future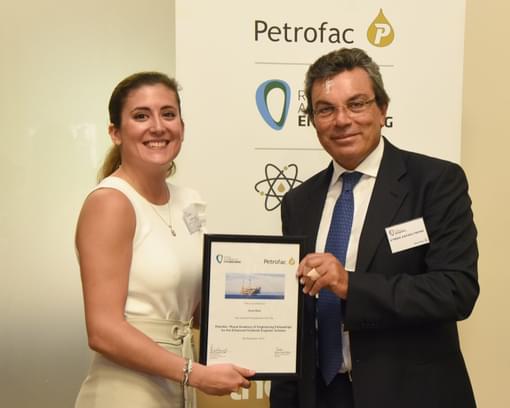 My life in engineering started in 2006 when I enrolled on a BSc Mining Engineering in the Basque Country, a highly industrialised area of Spain. Initially, I chose this course for its strong links to environmental science, a subject that has always been important to me. Developing innovative and less invasive technologies is a symbol of progress.
There were several factors that convinced me to go into engineering. Mining engineering is a very field orientated area of engineering; although the most important planning steps are done 'indoors', the main activity happens in the field, where you are always tackling the problems as they appear. I was also drawn to engineering by the challenge. In order to solve the problems, you need to apply both knowledge and logical thinking. Engineering means thinking, redoing, analysing, improving, optimising and developing. We are always pushing existing boundaries and limitations to make our lives better and more comfortable.
After finishing my first degree and getting some valuable work experience, I wanted to specialise in this area of the industry. In 2011 I enrolled on an MSc in Mining Engineering at the University of León in Spain. Leon is much less industrialised than the Basque Country but has a strong inclination towards coal mining, one of the most dangerous activities in the world.
I had a fantastic professor at university who showed us that thermodynamics is an area of science and engineering that we see everywhere in our daily life. The way that temperature affects energy and working bodies rules any industrial process. There is always an exchange of work and energy.
After I had completed my Masters in Spain, I went on to specialise further, joining an MSc course in oil and gas engineering at the University of Aberdeen. I was supported through my final studies by the Royal Academy of Engineering and Petrofac. Travelling to Scotland and enrolling on the Masters course is undoubtedly the biggest challenge I have faced so far. I was new to the industry and was going to study a degree in a foreign language! The course was hard and intense, but has also been incredibly rewarding. I have met people from all over the world, allowing me to understand different cultures and grow both personally and technically.
I have since moved back to Bilbao, where I am applying for jobs in the oil and gas industry. I am using this time between university and work to improve my French and visit local tech fairs to keep up to date with the latest innovations. I would love to work for an international oil and gas company, and my dream job would be as a field engineer, proving women can work just as well in 'rough' and male dominated environments.
Although I am only just starting on my engineering career, I would definitely encourage others to do the same, you won't regret it! Studying engineering is challenging (and sometimes nerve-wracking!), it is also incredibly fulfilling.