Exciting liquid metals provide many solutions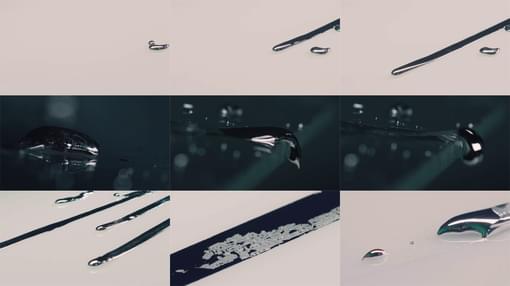 Human beings, on average, suffer from the unfortunate propensity to overlook many of the significant objects, issues, and phenomena around them – passing them by as they go about their day. There may be something groundbreaking right before you, but there's every chance that you won't actually notice it. This is an especially unfortunate penchant when it comes to solving global problems; the solutions may be right before us, but we often fail to them.
Take the world's growing energy requirements as an example – with each passing year, the number of power-hungry technologies grows. With it, the need to produce more energy similarly inflates, and yet with our focus based on the technologies, we spend less time looking for sustainable solutions. Acknowledging the impracticality of this relationship in the long-term, the Australian Research Council (ARC) Centre of Excellence for Future Low-Energy Electronics Technologies (FLEET) is focusing on creating novel ways to produce electronic devices that consume low energy.
As summarised on the FLEET website, we can describe the low-energy challenge as "reducing the energy used in information technology (e.g. data centres for instance that keep copies of our videos, images and documents), which now accounts for 8 per cent of the electricity use on Earth, and is doubling every 10 years. The current, silicon-based technology will stop becoming more efficient in the next decade as Moore's law comes to an end."


What does it mean?
Very soon, possibly even within a decade or two, the majority of our global energy production– critical to our strategy to adapt to climate change – will be consumed by data storage and processing centres. The escalating energy consumption problem and its consequences are usually either downplayed or ignored in the public eye; but thankfully, investigators at FLEET are creating new low-energy technologies, such as those based on liquid metals, that could slow (and hopefully stop) the increasing demand. These technologies mostly rely on the paradigm of creating perfect atomically-thin semiconducting crystals – a challenging endeavour.


Liquid Metals
Ever found yourself entranced by the swirling and sloshing motions of a liquid within its container? Gazed at the ceaselessly cyclic pattern of waves on the ocean surface? You're not alone – we seem to have a fascination with the basic surface-level properties of liquids. When it comes to liquid metals, the same fascination exists.
There are countless internet videos of people interacting with and manipulating these materials, and yet many of their most valuable attributes are regularly overlooked. For instance, these materials create atomically-thin metallic compound layers on their surface. These surface layers, in turn, are comprised of the most perfect crystals, ones that can form both naturally and – almost – instantaneously.


My Observation
While working on liquid metals a few years ago, I made a very simple but important observation. (For reference, I'm referring to non-hazardous types of liquid metals and their alloys, such as gallium.)
I noticed that when you roll a liquid metal on a substrate, the aforementioned surface layer gets released and remains on the surface of said substrate. The reason why this phenomenon is important is that by leaving this surface layer, liquid metals grant us access to the most perfect semiconducting crystals – ones that we can eventually engineer for use in electronic devices. In other words, we can potentially use these atomically-thick crystals to make low-energy electronic devices.
After I made the initial observation, we then extended its application and created various other materials: developing atomically-thin sheets of aluminium oxides from liquid gallium, for instance. Unlike the ones mentioned earlier these sheets aren't semiconducting; rather, they are super-absorbent of heavy metal ions and can be made extremely porous. By extracting these aluminium oxide wafers, we created filters able to clean polluted water faster and more efficiently than any other filter to date.


Various applications of liquid metals
Liquid metals are exciting and greatly deserve the surge of attention that they're starting to receive. I was lucky enough to receive the prestigious ARC Laureate Fellowship (LF) award to continue my work in this area, and will provide a quote from my ARC LF application that nicely summarises my thoughts on why there is so much to gain from this area of study:
"Fluidity and the metallic nature of liquid metals have been a source of fascination for humans throughout history. These liquids have traditionally been used in mining, for switches, barometers, heat transfer units, and coolers and heaters. However, recent discoveries have indicated liquid metals have untapped potential for applications in previously uncharted territories for creating systems with extraordinary physical and chemical properties.
"This fellowship will expand and unify our knowledge of liquid metals by focusing on exploring liquid metals as electron-rich solvents and also investigate new properties and translate findings to develop exciting future applications in electronics, optics, catalysts, thermal devices, and biosystems."
Liquid metals are an electronic liquid in contrast to any other type of liquid on Earth. I believe that, as scientists driven by the desire to help humanity, we need to re-discover the secrets and untapped potential of these materials. If we invest in the right fields and pay sufficient attention given to them, I believe that the resulting observations have the potential to produce powerful solutions to the global problems threatening our future. I am very excited and feel very privileged to work on liquid metals, and I look forward to making many more simple observations myself.