Obituary: Professor Isamu Akasaki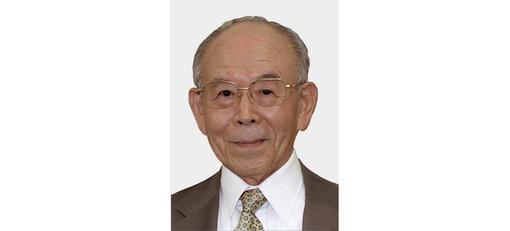 2021 Queen Elizabeth Prize for Engineering laureate Professor Isamu Akasaki, a Japanese engineer renowned for his work on LED lighting, has died aged 92.
Awarded the Queen Elizabeth Prize for Engineering in 2021, Professor Isamu Akasaki was a key innovator in the development of LED lighting, which has transformed the way we illuminate our world. His developments in the production of blue LEDs paved the way for the bright white LED lighting we use today, which has been widely adopted due to its high energy efficiency and significant environmental benefits. LED lighting has helped to solve problems all around the globe, with applications in off-grid solar lighting, medical imaging devices and vehicle lighting. Ultraviolet LED lighting has even played a part in fighting the COVID-19 virus, having been used with robots as a method of sterilising rooms in hospitals.
Lord Browne of Madingley, Chairman of the Queen Elizabeth Prize for Engineering Foundation said: 'We are deeply saddened to learn of the death of Professor Isamu Akasaki. His persistence in striving to create blue LEDs, once considered a technical impossibility, exemplified his commitment to engineering and is an inspiration to engineers at all stages of their careers.
'Professor Akasaki's work, together with those of our four other 2021 QEPrize laureates, has transformed the way we light our planet, and the results of his endeavours will continue to benefit society for years to come.'
Life and career
Akasaki was born on 30 January 1929, in Chiran, Japan. He studied electrical engineering at Kyoto University, where he graduated in 1952, and began work as a research scientist at Kobe Kogyo Corp., later renamed Fujitsu. He achieved his doctorate at Nagoya University, graduating in 1964, and went on to work at electronics company Matsushita Research Institute Tokyo, Inc. for many years. He was appointed as a professor at Nagoya University in 1981 and joined the faculty of Meijo University in 1992. Nagoya University opened the Akasaki Institute in 2006, to facilitate further research and innovation.
Akasaki's major breakthrough in the development of LED lighting was his work on blue-coloured LEDs. Previously considered impossible to make, Akasaki spent many years researching ways to produce this type of LED, using the semiconductor gallium nitride (GaN). When excited by electrons, GaN produces blue and ultraviolet light, but there existed a major challenge in growing the GaN crystals in a usable format. In 1986, Akasaki discovered that he could use an aluminum nitride layer placed on a sapphire substrate to grow the crystals. Later, in 1989, Akasaki added magnesium atoms to the GaN semiconductor and irradiated them with electron beams to create a positively charged layer. Combined with a negatively charged layer doped with silicon, he then demonstrated the first blue LEDs in 1992.
Akasaki continued his work on GaN semiconductors and blue LEDs into the 1990s and early 2000s, and his findings were key to the development of blue semiconductor lasers, used in high-capacity optical-media devices such as Blu-ray disc players. His work also led to the development of white LED lighting and solid-state full colour displays.
Awards
Akasaki's pioneering work was recognised with many awards throughout his career, in addition to winning the Queen Elizabeth Prize for Engineering in 2021 alongside Shuji Nakamura, Russell Dupuis, George Craford and Nick Holonyak Jr.
Additionally, he was awarded the Nobel Prize for Physics in 2014 for his work on blue light-emitting diodes. He also received the Kyoto Prize for Advanced Technology in 2009, the Draper Prize in 2015 and the IEEE Edison Medal in 2011.