SafetyNet - Highlighting the real problem

SafetyNet Technologies' primary goal is to design and build devices that increase the selectivity of commercial fishing practices. By being more selective with the fish caught, the industry becomes more sustainable. Light, which has been of interest to the fishing gear technology community since the 1970s, can be used as a tool to achieve this.
SafetyNet Technologies builds sophisticated LED systems that enables experimentation into how light can segregate between ages and species of fish. We then apply this knowledge to create simple sets of lights that help commercial crews catch the right fish.
Scientists are discovering amazing things about how different fish respond to light and coming up with ways to apply this to solve problems in the fishing sector. The issue of the fishing industry catching the wrong fish is not a new one and is mainly down to using 'unselective' gears. This means they catch fish they may not want, or may not legally be able to land due to the size or age of fish. The question remains; if we have the knowledge about how to use light to avoid unwanted catches, and the rules say that fishers absolutely have to avoid them, then why aren't they doing so?
While science is proving light's use as a tool, nobody has yet found a way to apply it at scale, in a way that is useful and affordable. Overfishing may be the problem, but a real barrier to creating the technology to fight it is the business community's perceived lack of value in helping the fishing industry to do so. At SafetyNet, we think we have found the right balance, offering an affordable solution that makes business sense to investors.
We believe good design relies on three things; technical feasibility, usability and desirability. In other words; does it work? Can I use it? Do I appreciate its value, and if so, what would I pay for it? At SafetyNet, we have tackled these questions in a number of different ways.
Does it work?
Our innovation has helped scientists study different fisheries, gears and species, and we continue to look for more fisheries in which to work. Last year we conducted a trial, funded by Young's Seafood and scientifically vetted by Cefas (the UK government's fisheries research service), that demonstrated how light helps lower fish bycatch in a North Sea prawn fishery. The day the results came through was pretty emotional! Having worked hard building prototypes and relationships for the last 7 years, the report validated the science behind our innovation and suggested it was worth continuing to develop it.
We are now running further trials around Europe, the US and south east Asia to see where else SafetyNet devices can make a positive change. Our learnings from these trials have informed the design of our new 'PISCES' device, which will enable the fishing industry to benefit from the latest experimental outcomes in research and apply them to real problems.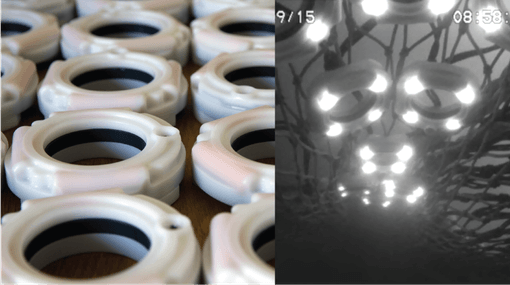 Can I use it?
This is the question that SafetyNet is answering as its highest priority. There are many technical challenges to using light in commercial fishing practices; is the device strong enough? Can it survive in the marine environment? Is it emitting the right kind of light?
These are all questions we have worked hard to answer, but the biggest question for us is whether the fishing industry will actually want to use it. This has led to us working with fisheries directly to understand their processes and how PISCES can fit within them.
For example, how can we make battery charging fit within current maintenance cycles? To do this, we must design an interface that can be easily installed and then forgotten about, while knowing it is still doing its job.
We are bringing learning from other sectors, such as the Internet of Things, web design and consumer electronics, into the fishing community. Our goal is to make fishing smarter without making it harder.
Do I appreciate its value?
Another challenge we have faced is our 'value proposition' to the fishing industry. How can we justify asking fishing crews to spend money on our devices? What can PISCES do for them, and what other value does using it unlock? Can we calculate this value?
PISCES offers a range of benefits to those who use it. It allows for easier compliance with strict new regulations; means less sorting of the catch once it's brought on-board; and it gives the knowledge that they are fishing more sustainably.
Of these, regulatory compliance offers the most compelling business case. Recently updated EU regulations say that every fish caught must be kept and brought back to port. This means that, while previously unwanted catches could be thrown back into the sea, now even low-value or endangered fish must be kept, taking up space and reducing profit at the end of the trip.
Using PISCES to catch the right fish in the first place means more valuable fish in the hold. Our statistics show us that the increased profitable catch means PISCES will pay itself off in roughly one day of use. The fact that it retrofits to existing gear (meaning no additional purchases) is an additional sweetener.
It has been really important for us to demonstrate the value of PISCES to our end-user, who is generally also our customer. This has involved thinking about value in different forms, such as time saved and ethical wellbeing. We think we've done so in a way that proves to fishing crews that not only can they afford to use PISCES, but it will make their lives easier and businesses more profitable.
Working in such a niche space, SafetyNet are turning to creative ways of keeping development moving, launching their new crowdfunding campaign later this year. Follow them on Twitter @SNTechUK to find out how you can get involved.