His Majesty The King presents 2022 and 2023 Queen Elizabeth Prizes for Engineering (QEPrize) at Buckingham Palace

Dr Masato Sagawa, Professor Martin Green, Professor Andrew Blakers, Dr Aihua Wang and Dr Jianhua Zhao are presented with the world's most prestigious engineering accolade, celebrating its tenth year in 2023.
On Thursday 12 October 2023, His Majesty King Charles III presented the 2022 and 2023 Queen Elizabeth Prizes for Engineering (QEPrize) during a ceremony at Buckingham Palace. The presentation was followed by a Gala Dinner at the recently transformed Old War Office in London to celebrate the Prize's tenth year.
The Queen Elizabeth Prize for Engineering is presented to engineers responsible for groundbreaking innovations that have been of global benefit to humanity. Celebrating its 10-year anniversary this year, the QEPrize was inaugurated in 2011 and first presented in 2013 by Queen Elizabeth II to the developers of the Internet and the World Wide Web.
The 2023 QEPrize laureates are Professor Martin Green, Professor Andrew Blakers, Dr Aihua Wang and Dr Jianhua Zhao for the invention and development of Passivated Emitter and Rear Cell (PERC) solar photovoltaic technology, which has brought down the cost of solar panels by 80% over the past decade, enabling solar power to become the cheapest source of electricity in many regions around the world.
The 2022 QEPrize laureate is Dr Masato Sagawa for the discovery, development and global commercialisation of the world's most powerful permanent magnet (NdFeB), which is not only an invisible yet vital part of smartphones, cars, and robots, but has been transformational in enabling the growth of energy saving technologies like wind turbines and electric vehicles.
At the Presentation Ceremony, His Majesty The King continued his late mother's legacy, presenting each winner with unique trophies specially designed by young people through the global 'Create the Trophy' competition. Every year, hundreds of school, college and university students enter the competition to develop their own concept for the QEPrize trophy. The winning design is 3D printed and presented to the winners. 25-year old engineering student Anja Brandl from Switzerland designed the 2023 trophy for the solar energy pioneers and 19-year old web content producer Anshika Agarwal from India designed the 2022 trophy received by Dr Sagawa.
Lord Browne of Madingley, Chairman of the Queen Elizabeth Prize for Engineering Foundation, said "These two innovations are truly groundbreaking. Each represents the focal purpose of the Queen Elizabeth Prize and the engineering discipline in its very essence – both fundamental in our day-to-day lives and integral to ensuring a more sustainable future. The NdFeB magnet is inside almost every electric vehicle and offshore wind turbine, while PERC solar cell technology has helped solar power become the world's cheapest source of electricity. I congratulate all five winners for their feats of engineering and their contribution to humanity".
Dame Lynn Gladden, Chair of the QEPrize Judging Panel, said "Over the last ten years, the Queen Elizabeth Prize for Engineering has been dedicated to recognising the greatest engineering achievements and their transformational impact on the world in which we live. The 2022 and 2023 laureates epitomise the values we seek to recognise. Their innovations have had an immeasurable impact at a global scale, from electronic appliances, healthcare and hospital equipment supported by NdFeB magnets, to solar farms and mini-grids in emerging markets made possible by PERC solar cell technology.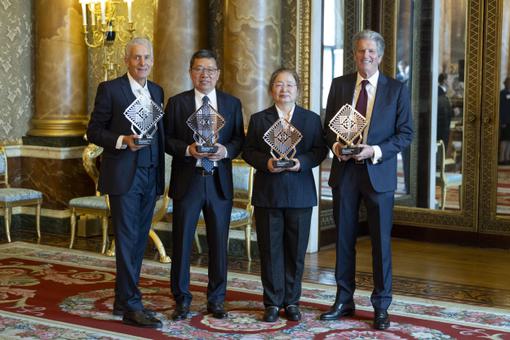 Professor Andrew Blakers, Dr Jianhua Zhao, Dr Aihua Wang, and Professor Martin Green
PERC Solar Photovoltaic Technology – 2023 QEPrize
Green, Blakers, Wang and Zhao, the 2023 winners, greatly improved the energy conversion efficiency of commercially dominant silicon cells by improving the quality of both the top and the rear surface of standard silicon solar cells. PERC introduced an additional layer on the back surface that helped prevent recombination and, further, reflected unused photons back into the silicon to generate more electrons.   
Through continued research and development, and the help of many others worldwide, the 2023 laureates have significantly reduced the costs of solar panels, with the cost of solar power generation falling by over 80% in the past decade. PERC technology is now the most commercially viable and efficient silicon solar cell technology used in solar panels and large-scale electricity production, and accounts for almost 90% of the global solar cell market.   
"To receive this prestigious award from His Majesty King Charles is a proud moment for me, but I hope also for my UNSW colleagues and students. The QEPrize is famously committed to recognising engineering that delivers transformational change in society and I believe a transformational shift towards solar, and wind generated power is inevitable. It is a critical trajectory that we're on and it is special to be recognised for our part in that, today." – Scientia Professor Martin Green 
"It is an honour to be presented the 2023 Queen Elizabeth Prize for Engineering alongside academic colleagues and friends at a venue that is as renowned as Buckingham Palace. I would once again like to thank the QEPrize judging panel for recognising not only this group, but the thousands of solar cell researchers and experts that have and will continue to improve PERC cell efficiency, which in turn supports solar power being the cheapest source of energy globally." – Professor Andrew Blakers 
"Achievements in engineering can have a remarkable impact all over the world and we are very grateful that the Queen Elizabeth Prize for Engineering has selected PERC technology among many global innovations. It is my pleasure to share this award among friends and colleagues who each played a critical role in achieving the energy efficiency target." - Dr Aihua Wang 
"It is a pleasure to be back in London to accept the 2023 Queen Elizabeth Prize for Engineering trophy today. I would like to extend my gratitude to the QEPrize panel and my esteemed colleagues. This achievement underscores the importance and influence of engineering, as well as representing an important milestone in energy." - Dr Jianhua Zhao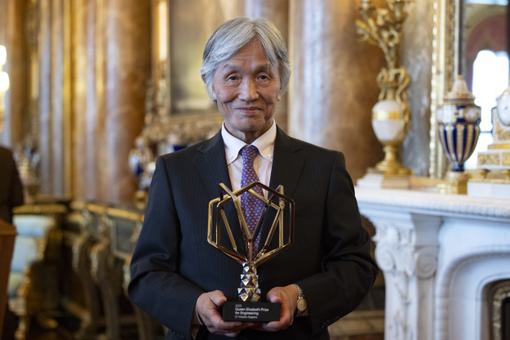 Dr Masato Sagawa
The world's strongest permanent magnets – 2022 QEPrize
Sagawa, the 2022 winner, pioneered the development of a sintered rare-earth permanent magnet, the sintered neodymium-iron-boron (Nd-Fe-B) magnet, then led research and development in the 1980s and early 1990s to successfully overcome the issues of sudden reduction of magnetic coercivity at high temperature, most notably by adding dysprosium (Dy) to improve heat resistance.
The result was a new magnet for the mass market that almost doubled the performance of the previous best and successfully turned Nd-Fe-B magnets into a viable industrial material with wide applications. The new magnet has a significant advantage in high-efficiency and high-torque density applications, such as motors and generators for electric vehicles and wind power generation, and in more general applications where small powerful magnets are required, including robots, automation systems and domestic appliances.
"It has been some time since I was awarded the 2022 Queen Elizabeth Prize for Engineering, but I am more honoured than ever to receive this trophy in the presence of The King. Many years ago, experts in my field were convinced that magnets could not be made with rare earth metals and iron, but I remained curious and today have been recognised for effort and perseverance in this idea. I hope the QEPrize will inspire young researchers to persevere with their efforts and continue to think on how engineering can deliver for the needs of society." – Dr Masato Sagawa.