Engineering: Creating opportunity

On Monday 26th October, we released a report on perceptions of engineering across the world. Here are some key points from Chapter 4: Creating opportunity.
Image courtesy of ShellAcross the board, people recognise engineering's positive role in creating new job opportunities in their communities. However, in seven of the 10 countries surveyed, there is a perceived lack of resources to help young people get started in the profession. This perception is particularly prevalent in Brazil and South Africa, especially among older generations. Many 18-35 year olds, the principal age for career decision-making, also consider the cost and difficulty of becoming an engineer to be major barriers to entry. Many of those at the principal age of career decision feel an engineering degree is too hard or challenging, too expensive, and that it is too difficult for them to get started in that career anyways. As a result, interest, inspiration, and consideration towards engineering spikes within the 25 to 44-year-olds, along with regret for not pursuing the career.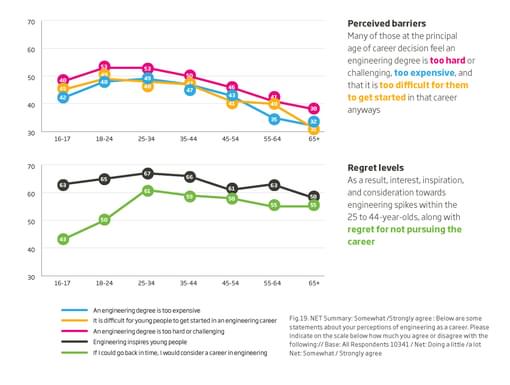 Yet encouragingly, 16-17 year olds rank engineering as the world's third most accessible career. This represents a fantastic opportunity for the whole industry: a chance to harness the next generation's respect and enthusiasm for the sector, and nurture them to become the game-changing engineers of tomorrow. The US, Germany, and India enjoy high opportunity indicators for those aspiring to be engineers. While having moderate levels of interest, the USA and Germany also have some of the lowest barriers to a career engineering, creating a high opportunity environment. Even though India has some of the greatest barriers, it also has the highest levels of optimism and interest, also resulting in a high opportunity environment. In contrast, Brazil, South Korea, and South Africa are struggling in this respect
Building this bright future requires a level playing field. Currently, the opportunities for aspiring engineers in countries such as the US, India and Germany far outstrip those in China, South Korea and even the UK. Resources to get started in engineering are found to be lacking in 7 out of 10 countries. Professor Sir Christopher Snowden, Vice-Chancellor at the University of Southampton notes that while "the constraints on engineering careers are perceived to be fewer in the USA than in the UK, leading to the view that the USA retains the highest opportunities for those aspiring to be engineers," respondents still "felt that there were still opportunities for engineers and that the main barrier to careers in engineering [in the UK] was a shortage of funding for training." For the engineering sector to continue to have a positive and lasting impact on the world around us, everyone must be given an equal chance to become part of it.
Dr Dan Mote, president of the US National Academy of Engineering stresses the importance of providing this opportunity: "It is important for our society, and especially for our young people, to understand how greatly our future, just like our past, depends on engineering achievements. There is no Plan B." BG Group Chief Executive Helge Lund emphasises the breadth of problems engineering can address: "From climate change to supplying affordable and sustainable energy for all, we face problems that mean we must develop the best and brightest talent in engineering."Professor John Hennessy reflects on how we might offer these opportunities more widely: "Engineers solve problems They do so through the creation and deployment of new knowledge and technologies to create cost-effective solutions, often to the most demanding problems the world faces… The use of information technology for education has recently received great attention, and it is increasingly clear that online education can play a transformative role, particularly in the developing world where educational institutions cannot meet the demand. The first Queen Elizabeth Prize for Engineering celebrated what is arguably the most important creation of the past 50 years in information technology: the development of the internet and World Wide Web."