---
This year's QEPrize trophy was designed by Jack Jiang, 16, from Hong Kong. Jack's design, created using the QEPrize 3D Design Studio app, was selected from an unprecedented number of international entries.
Jack's intricate design impressed the judges with its complexity and balance, combining traditional trophy shapes with elements of modern wind turbines.
Jack is currently in year 11 studying Chemistry, Physics, Biology, English, Maths, and Art. He is interested in architectural engineering and believes that engineers are key to solving the world's future challenges. "There are countless environmental problems around the world, and right now they are only getting worse. However, I know that it will be engineers that provide solutions to them," said Jack.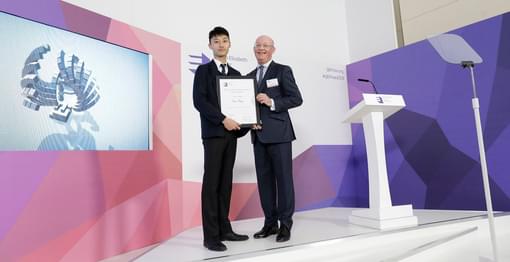 Create the Trophy winner Jack Jiang is presented with his certificate by Sir Ian Blatchford, Chair of Create the Trophy judging panel
When asked about winning the competition, Jack said: "It's an absolute pleasure to be able to design the trophy for the Queen Elizabeth Prize for Engineering. It was an incredible opportunity and I am extremely honoured to be part of this prestigious prize. Being one of the youngest entrants selected for the top 10, it shows that creativity and the ability to design is not limited by age. I hope this inspires more young people to enter into the world of engineering."
The winning design was selected by a prestigious judging panel, chaired by Science Museum director, Ian Blatchford. Returning to the panel this year were Roma Agrawal, a structural engineer at Interserve; and Rebeca Ramos, a designer at Heatherwick Studio. Zoe Laughlin, co-founder and Director of the Institute of Making at University College London, joined the judging panel this year.